FOR IMMEDIATE RELEASE

Canadian Talent Taking Centre Stage at ANOKHI's 20th Anniversary This June, With The Addition Of Karen David, Husein Madhavji, Natasha Chandel, Ali Kazmi & More.
Toronto, ON | Friday May 26th, 2023
ANOKHI LIFE, North America's longest running multimedia, multi-platform brand about South Asian pop culture, lifestyle, and entertainment announces it's second roster of fashion designers, panelists and attending personalities for its upcoming 3-event anniversary celebration June 16-17 in Toronto. These include multi-award winning Hollywood actress Karen David, and Canadian actors Husein Madhavji, Natasha Chandel, Ali Kazmi and more.
_________________________________________________________________________________________
Here is a synopsis of ANOKHI's 3 events:

ANOKHI EMERALD RUNWAY (June 16th) – Celebrity Fashion Runway Show Featuring Well-Known Personalities In Today's Hottest South Asian Couture.
ANOKHI EMERALD BRUNCH (June 17th) – Celebrity Brunch Discussing Mental Health With Meditation, Keynote, Panel, Fireside Chat & Opportunity To Network.
ANOKHI EMERALD BALL (June 17th) – Celebrity Performances & DJ Spotlight With The Best Of Chart, R&B, Bollywood And Bhangra. 
Detailed Program is available HERE.
The following personalities are set to participate:
ANOKHI EMERALD RUNWAY (June 16th, 2023 | 7 pm – 11 pm)
Westin Toronto Airport Hotel
PARTICIPATING DESIGNERS:
Rivesse By Ishan Sanghavi
Fashion Designer, US
IG @rivesseclothing
"I'm excited and honored to be a part of the ANOKHI EMERALD RUNWAY on June 16th in Toronto, showcasing my Rivesse collection for the first time in Canada."
____________________________________________
Navaa By Ravleen Kaur
Fashion Designer, Canada
IG @shopnavaa
"I'm ecstatic to present Navaa's curated collection at the Anokhi Emerald Runway Show. I've been closely following Raj and Anokhi's amazing journey, and I have so much respect for the way they continue to empower the South Asian community and fearlessly tackle important topics like mental health and taboos. I can vividly remember attending a networking event where Raj spoke passionately about these issues, leaving me incredibly inspired! It's a genuine honor to align with Anokhi's mission and showcase pieces from emerging, talented, and inclusive South Asian designers in North America!"
____________________________________________
These Prominent Personalities Have Donated Their Time To Walk The Runway, To Empower Our Theme Of Normalizing Mental Health Among The South Asian Community
Husein Madhavji
Award-Winning Actor & Writer
IG: @huseinmadhavji
"I'm incredibly proud of our South Asian community and all that we have accomplished over the past 2 decades, not only professionally but also the candid conversations we are having around the importance of mental health. And imagine what the next 20 years will be like— Well, we'll all be taken over by robots so now is the time to enjoy your life to the fullest! Thank you ANOKHI for bringing me on board to celebrate South Asian excellence… you continue to champion our community, nothing but love and appreciation for your entire team! "
Sonia Jhas
Mindset & Wellness Expert, TEDx Speaker, Author
IG: @soniajhas
"I am so excited to be a part of the #ANOKHI20 celebrations to highlight North American South Asian accomplishments and support mental health awareness! To celebrate this community is to celebrate our resilience, vibrance, and sheer excellence— I am immensely proud of all that we have achieved and grateful for ANOKHI's commitment to the advancement of South Asians over the past 20 years."
Ali Kazmi
Award-Winning, Actor & Director
IG: @thealikazmi
"Talking about Mental health is something that had always been a taboo, especially amongst South Asians for many years. I am truly happy and proud to see the awareness grow and ANOKHI to be a valuable part of this conversation.
May we all try to be more open, talk to each other and move forward with love and compassion together!"
Sandy Kaur Gill
Teacher, Author, Creative
IG: @thesandylion
"South Asian mental health is a topic that affects us every day,
lets normalize that conversation.
Taking part in this event is one way of doing that!"
Harjas Singh
Entrepreneur, Model, Content Creator]
IG: @styledbyharj
"The feeling is simply proud – proud to see the progress made by South Asians in all walks of life,
the progress and waves made in making Mental Health a larger focus in and importance in our community and extremely proud to see the growth and impact of the Anokhi brand worldwide!"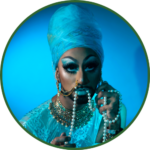 Mango Lassi
Drag Queen
IG: @_humzer
"I'm so excited to help Anokhi celebrate their 20th anniversary in collaboration with CAMH! Mental health issues have been stigmatized for decades in our community – even more amongst our queer siblings – and it's our responsibility to make things better for future generations."
Fuad Ahmed
Award-Winning Actor
IG: @syed_fuad_ahmed
"I am enthralled to see the thriving diaspora profiled by ANOKHI and to take part in the runway event. I applaud the team for publicly speaking out about mental health issues in our community – a subject that has been swept under the rug for far too long."
____________________________________________
PREVIOUSLY ANNOUNCED PARTICIPATING DESIGNERS:
Archana Kochhar, Priya Chhabria, Mani Jassal and Dinesh K Ramsay
ANOKHI EMERALD BRUNCH (June 17th, 2023 | 10 am – 2 pm)
Westin Toronto Airport Hotel
Participating In Our Fireside Chat Series At The Event:
Karen David
Multi Award-Winning Hollywood Actress
IG: @karendavidofficial
Photo Credit: Paul Smith
"My journey has been blessed with immense love, support, and encouragement from my family, my work family, my magical and inspiring, teachers and mentors and dearest friends. It really does take a village and I am (hopefully ) a better human and creative. I'm very proud of ANOKHI to be spreading awareness and compassion on mental health within our South Asian community, universally. This is a cause I am very passionate about. We've endured a lot these past few years, especially through a pandemic, and it's so vitally important to show up for each other and allow ourselves and each other to share our challenges in a safe and supportive space. I'm looking forward to participating in the ANOKHI EMERAD BRUNCH as well! It will be an inspiring few days, and so lovely to be back home in Toronto!"
Natasha Chandel
Hollywood Writer, Actor, Comedian
IG: @natashachandel
"South Asians have one of the richest cultures in the world (that extend far beyond "chai tea" and turmeric shots), and I'm beyond elated to see us finally being recognized on a global stage! It started with ANOKHI 20 years ago, and their commitment to our lifestyle and improving mental health has been vital. I'm honored and grateful to attend the ANOKHI EMERALD BRUNCH and lend my voice to a great organization and cause."
Centre For Addiction And Mental Health (CAMH) Presentation By:
Sarah Ahmed
[Research Coordinator, CAMH]
There are 2.6 million people of South Asian origin in Canada, representing the country's largest racialized group. We know this population has higher rates of mental health problems, but also is much less likely to seek treatment. I am proud to participate in the Anokhi Emerald Brunch to share more about the work CAMH is doing to support the mental health of the South Asian community with evidence-based, culturally appropriate care."
____________________________________________
PREVIOUSLY ANNOUNCED PARTICIPATING PERSONALITIES:
Tamanna Roashan, Thara Natalie
ANOKHI EMERALD BRUNCH (June 17th, 2023 | 10 am – 2 pm)
Westin Toronto Airport Hotel
Attending:
Sammy ChandFounder/CEO, Rukus Avenue
IG: @sammychand
"What an honor to attend the ANOKHI EMERALD BALL to recognize the amazing achievements in our South Asian Community over the past 20 years, all while creating awareness for the important initiatives around mental health."

____________________________________________
PREVIOUSLY ANNOUNCED PARTICIPATING PERSONALITY:
Rhea Raj
_________________________________________________________________________________________
Full List Of Attending & Participating Personalities Available HERE.
More Attending Personalities & Sponsors announcements coming.
_________________________________________________________________________________________
#ANOKHI20 SPONSORS & PARTNERS:
EVENT HOST: Anokhi Life
CHARITY PARTNER: Centre For Addiction & Mental Health
VENUE & HOTEL PARTNER: Westin Toronto Airport Hotel
TALENT SPONSOR: The Open Chest Confidence Academy
ANOKHI EMERALD RUNWAY & BALL PRESENTED BY: The Dhalla Group Of Companies
ANOKHI EMEALD BRUNCH PRESENTED BY: Meridian Credit Union
PLATINUM SPONSOR: KFI The Indian Sauce Company
GOLD SPONSOR: BioAro, Keek, Mantella Corporation, Rowenta
GOLD SPONSOR/BROADCAST MEDIA PARTNER: Zee TV Canada HD
SILVER SPONSOR: Rubicon Exotic, Shana Foods
SILVER SPONSOR/RADIO PARTNER: Rukus Avenue Radio
FRONT STAGE LOGISTICS & SHOW MANAGEMENT: Styleworthy
BACKSTAGE MANAGEMENT & FASHION CHOREOGRAPY: Toronto Fashion Academy
DECOR PARTNER: Top Diamond Events & Party Rentals
DECOR CONSULTING PARTNER: Chic Luxury Events
BAR & FLOOR WRAPS SPONSOR: Paragon Designs
AUDIO/VISUAL PARTNER: Empire Entertainment
AWARD LOGO DESIGN & SHOW ANIMATIONS BY: Dan Filip Radu 3D Animation & Video Production
PHOTO & VIDEO PARTNER: Nisarg Media Productions
HAIR & MAKEUP FOR RAJ GIRN: The Beauty Concept By Shirley Wu
HAIR SPONSOR: Prive Hair Gallery
BRONZE SPONSOR: Blue Peacock Vodka, Five Rivers Whiskey
ANNIVERSARY CAKE PROVIDED BY: Kate Frasch
MEDIA & PR: Media Works
RED CARPET COVERAGE: Anokhi Uncensored, Getty Images
ONLINE MEDIA PARTNER: Dissdash, GTA South Asian Media Network
COMMUNITY PARTNER: Sapna Toronto
____________________________________________
FOR MEDIA ACCREDITATION: CLICK HERE
TO INTERVIEW FOUNDER RAJ GIRN: CLICK HERE
-30-
About ANOKHI LIFE
ANOKHI LIFE (previously ANOKHI MEDIA) was founded in 2002 by its award-winning President and CEO Raj Girn, who had the vision of creating a one-stop multimedia resource to communicate and engage intimately with the global South Asian community to which she belongs, as well as provide a platform for relevant and penetrative connectivity between the community and the commercial world at large. With this as the central focus and mission statement, Raj and her team set forth to create a brand that would forge this vision into the mindshare of the community and market share of the client.
ANOKHI LIFE's portfolio includes a robust online community with an online magazine blog, 2 video channels, a radio show, an annual awards show, a boutique event series, a weekly newsletter, and a global social media network. They have also garnered an extensive, long-term, multi-national client base due to their innovative strategies and pioneering initiatives. The brand has become North America's premier "go to" information resource for all aspects associated with South Asian pop culture, lifestyle and entertainment, for the consumer, the media and the commercial sector.